No yard is complete without some lush green grass to walk on. Here at BlueStone Landscape Construction, we are experts in turf installation and can work with both synthetic and natural turf in Bendigo. Whether it's just a small section of your front yard or a large backyard area for the kids, we have solutions that will meet your needs and budget while taking the climate into consideration.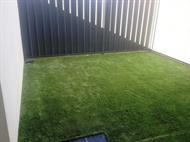 Synthetic turf is ideally suited for low maintenance backyards
Here in Australia, we get our fair share of warm weather and with water restrictions it can be difficult to maintain natural grass. If you think you might be one of the many homeowners that are benefitting from synthetic alternatives, give us a call. We choose suppliers that only offer the best products and we are certain you will love the look and feel of the product we install at your home. Don't forget to ask about our drought tolerant grass and why it may be the best option for you.
Nothing makes a Bendigo yard look better than beautiful natural grass
There's something very satisfying about looking out at an expanse of immaculate green grass. It provides ample room for family fun and activities, is great for pets and offers the perfect setting for your relaxing outdoor sanctuary. Ensure you have a suitable sprinkler system installed to keep your patch of lawn looking vibrant and have our team arrange a solution while they're there. We can also include a stunning water feature for that final missing piece to your backyard oasis.
Get in contact with our team and book a free design consultation
No matter which type of turf installation you choose, either natural or synthetic, our team prides itself on going above and beyond to help our customers achieve the ideal garden. That is why we happily provide quality advice after each installation to help our clients care for and maintain their grass to keep it in pristine condition all year round. To find out more about our natural grass options or to request a quote, please contact us online or via phone on 0400 078 913.